Here's a quick update on what I've been reading lately:
I recently discovered the Outlander series, so I'm knee deep in reading through.  I personally love long books, and I'm enamoured with Jamie, Claire and the crew.  My reading has been taken over by Gabaldon's series.  Here are 5 reasons you should read it, too!
The Fiery Cross is the 5th in the series when the Frasers reach and settle in North Carolina.  It's so accurate to the geography and history that I find this (and the others) to be well beyond a woman's fiction book.  Planning a longer review of the entire series, but, for now, here's a quick summary:
The Fiery Cross by Diana Gabaldon
The dazzling fifth volume of Diana Gabaldon's extraordinary Outlander saga, featuring 18th-century Scotsman James Fraser and his 20th-century time-traveling wife, Claire Randall.

The year is 1771, and war is coming. Jamie Fraser's wife tells him so. Little as he wishes to, he must believe it, for hers is a gift of dreadful prophecy—a time-traveler's certain knowledge.

Born in the year of Our Lord 1918, Claire Randall served England as a nurse on the battlefields of World War II, and in the aftermath of peace found fresh conflicts when she walked through a cleftstone on the Scottish Highlands and found herself an outlander, an English lady in a place where no lady should be, in a time—1743—when the only English in Scotland were the officers and men of King George's army.

Now wife, mother, and surgeon, Claire is still an outlander, out of place, and out of time, but now, by choice, linked by love to her only anchor—Jamie Fraser. Her unique view of the future has brought him both danger and deliverance in the past; her knowledge of the oncoming revolution is a flickering torch that may light his way through the perilous years ahead—or ignite a conflagration that will leave their lives in ashes….

Grand, sweeping, utterly unforgettable, The Fiery Cross is riveting entertainment, a vibrant tapestry of history and human drama.
Rich People Problems [Crazy Rich Asians]
This is the third book in the series by Kevin Kwan.  These are fun books about extravagant Asian families.  If you're looking for a fun, light read about families in western culture, this is a great series. I love the details about the family events, clothes, and food.
When Nicholas Young hears that his grandmother, Su Yi, is on her deathbed, he rushes to be by her bedside–but he's not alone. It seems the entire Shang-Young clan has convened from all corners of the globe, ostensibly to care for their matriarch but truly to stake claim on the massive fortune that Su Yi controls.

With each family member secretly fantasizing about getting the keys to Tyersall Park–a trophy estate on 64 prime acres in the heart of Singapore–the place becomes a hotbed of intrigue and Nicholas finds himself blocked from entering the premises.

As relatives claw over heirlooms, Astrid Leong is at the center of her own storm, desperately in love with her old sweetheart Charlie Wu, but tormented by his ex-wife–a woman hell bent on destroying Astrid's reputation and relationship. Meanwhile Kitty Pong, married to billionaire Jack Bing, finds a formidable opponent in his fashionista daughter, Colette.
I recently came across Kristan Higgins and have truly enjoyed her books.  They're thoughtful and crisp in reality.  The characters usually are dealing with a tragic or devastating event and work through it without melodrama.  I consider them a step above "beach reading" and more into solid, good fiction.  It seems that when I get one of her books; I don't put it down until I'm done.
A review on Goodreads mentioned how her covers don't reflect the type of book it is, and I agree! The covers are bland compared to the plot inside.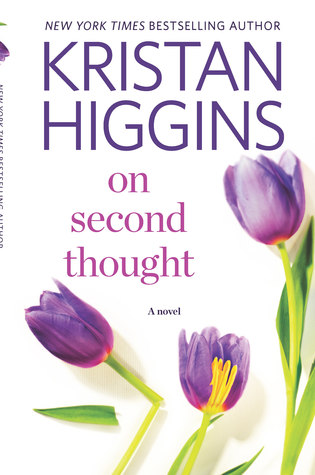 Ainsley O'Leary is so ready to get married—she's even found the engagement ring her boyfriend has stashed away. What she doesn't anticipate is being blindsided by a breakup he chronicles in a blog…which (of course) goes viral. Devastated and humiliated, Ainsley turns to her older half sister, Kate, who's struggling with a sudden loss of her own.
A funny, frank and bittersweet look at sisters, marriage and moving on, from the New York Times bestselling author of the Blue Heron series 

Letting go of her ex-husband is harder than wedding-dress designer Jenny Tate expected…especially since his new wife wants to be Jenny's new best friend. Needing closure, Jenny trades the Manhattan skyline for her hometown up the Hudson, where she'll start her own business and bask in her sister Rachel's picture-perfect family life…and maybe even find a little romance of her own with Leo, her downstairs neighbor, who's utterly irresistible and annoyingly distant at the same time.
Kids:
Our boys love this new (to us) series entitled "The Bad Guys."  They include graphic cartoons and are funny for our readers.  Good for young readers!
From Amazon: They sound like bad guys, they look like bad guys . . . and they even smell like bad guys. But Mr. Wolf, Mr. Piranha, Mr. Snake, and Mr. Shark are about to change all of that…
Mr. Wolf has a daring plan for the Bad Guys' first good mission. They are going to break two hundred dogs out of the Maximum Security City Dog Pound. Will Operation Dog Pound go smoothly? Will the Bad Guys become the Good Guys? And will Mr. Snake please stop swallowing Mr. Piranha?!
What are you reading lately?