Do you remember Golden Books? Like many young readers, the gold spine of the books is etched into my mind.  (Way back) in the eighties, before my family could make it to large cities to go shopping, Golden Books always seemed to be available, even in our small grocery store.  We have some for our children, which are dog-eared and well-loved, but holding up for evening story time. 
I was thrilled to hear that one of my favorite children's wear stores was teaming up with some of my favorite books. My boy's wear Gymboree for special events, for church, for school, and for bedtime.  Gymboree jammies are our favorite, and my washer and dryer can attest to how well they hold up through various siblings wear them.
Shop the New Little Golden Books baby collection at Gymboree!
Gymboree has recently launched one of my favorite collaborations: Little Golden Books featuring The Poky Little Puppy, The Fuzzy Duckling, and The Shy Little Kitten. My favorites:
Love this sweet duck footie for a baby girl or boy!
How precious is this kitten dress – perfect for Easter Sunday!
I just love this pinafore set!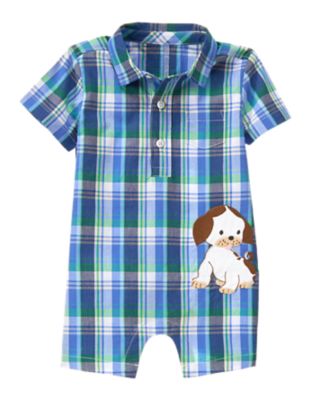 I have my own little puppy who would look adorable in this plaid romper!
Shop the New Little Golden Books baby collection at Gymboree!
Free Shipping over $75 at Gymboree
Gymboree is having a story time sweepstakes to share their excitement! Head to the website below to enter!
About Gymboree's Little Golden Books Collection
Gymboree celebrates One Big Happy Storytime with the launch of a limited-edition baby collection featuring iconic characters from Little Golden Books. The Poky Little Puppy, The Fuzzy Ducklingand The Shy Little Kitten all come to life in cute, cozy, giftable clothing and accessory sets.
About the One Big Happy Storytime Sweepstakes
As part of the Little Golden Books baby collection launch, Gymboree is hosting a One Big Happy Storytime sweepstakes, giving away everything a family needs to make storytime extra special. Your readers can enter for the chance to win over $2,000 in prizes, including Little Golden Books nursery bedding and décor from The Land of Nod, a set of Little Golden Books from Random House, and a $500 gift card from Gymboree. Fans can see rules and enter at gymboree.com/littlegoldenbooks now through February 29; winners will be announced in March.
[Sponsored post, but all opinions are my own]