Teachers certainly deserve a week (or more) worth of celebrating their work and dedication! Having many teachers in my family means that I know what they use every day and what is helpful for them in the classroom. Teachers appreciate any kind, small, and thoughtful gesture, so teacher gifts never need to be extravagant.  However, if a parent is looking for ideas, here are my suggestions for teacher gifts:
1. BOOKS! BOOKS! BOOKS! Teachers, especially elementary, are always in need of more books for their rooms.  Many educations I know spend their own money on books for their students and classrooms.  If a child's teacher is in the beginning of his or her career, this would be appreciated in setting up library (Click on image to purchase).
This Roald Dahl 15 book set of his classic chapter books would be great for any teacher's bookshelf.
Bob Books are popular with teachers and parents for beginning readers, and the paperback set would be perfect in any classroom.
Or what about the classic Madeline L'Engle set for a book loving teacher?
2. STATIONERY
If something a little more personal is on your list, I know many teachers love custom labels, especially for their books! These personalized bookplates from the Etsy shop, Perapress, are adorable and affordable.
Notes going home in the backpack can be cute and easy to use – these custom notepads from Tickled Peach Studio would be great on any desk.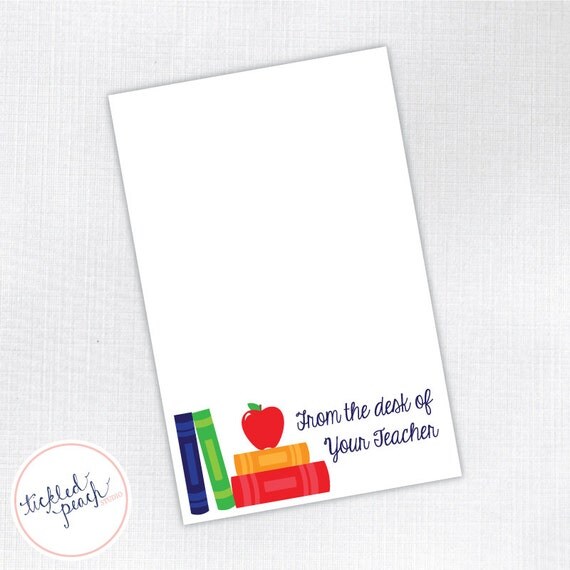 3. LESSON PLANS: Here are some ideas to help any teacher make their day more efficient and helpful.  This is a terrific website that lets teachers share, exchange, and purchase lesson plans – uploaded by teachers! It's very well-organized and offers gift cards – this is very popular with teachers!
Last, but not least, this Erin Condren lesson planner would be an above and beyond gift (it's not inexpensive), but it is a fabulous gift for an above and beyond teacher: