Happy five on Friday! It is scorching hot here in SC.  Here are a few fun things for escaping the heat.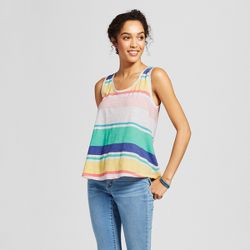 I love this tank from Target.  It's swingy and covers bra straps.  I have it in 3 colors, and they are perfect wearing alone or layering.  I would say they run large and were $10 when I picked it up.
Recently, I gave the Essie gel + polish a try.  I wasn't too impressed with it; my nails chipped quickly.  Any suggestions or tips for using this or other "gel" nail polishes.
Tales of a Bookworm: The Complete Guide to Baby Gear
Rose All Day on Pinterest
What are you pinning right now? I'm finding some fun things after not really being on Pinterest for awhile.  Follow me here.
Weekend Plans: Our plans include the pool, popsicles, and sitting in front of the fan.  What about you!?